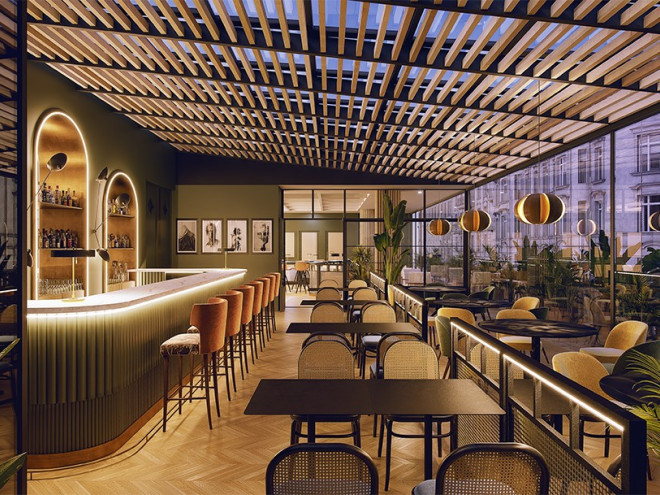 Posted By
01 of September 2022
0 Comment(s)
1785 View(s)
The Club Assembly on June 29 approved a refinancing of the debt that will allow the refurbishment of the lounge and terrace to begin.
The winning proposal of the ideas competition was that of the Foxium Arquitectura studio, led by Álvaro Oliver Bultó, which proposed a multifunctional and dynamic space made up of the Balmes room, the Orangerie terrace and the outdoor terrace. In the living room, there will be several seating areas; the main one will be presided over by an imposing paneled boisserie, high tables for informal work and a large heated wine cellar. The new ceilings will incorporate moldings and mirrors in order to give scale and spaciousness to that space. The current terrace will be enabled as a dining room for the restaurant.

Thanks to an extensive use of vegetation, a greenhouse environment will be created. A new bar will function as a service counter. The interior kitchen spaces will also be updated to update their facilities, with the aim of having a first-class gastronomic space. The contract furniture of the entire proposal is of current design with classic nods, -Thonet chairs, Coderch lamps- and velvet upholstery. Special attention has been paid to the lighting, which must be indirect and warm. On the outdoor terrace, there will be modular sofas and Parisian-style coffee tables. Natural elements and textures, warm colors and a refined English style will be the hallmarks of the new terrace, designed by the Foxium Arquitectura studio, founded by Álvaro Oliver Bultó.

After finishing his architecture studies in Barcelona, ​​Oliver moved to Madrid in 2004 to work at Paredes Pedrosa Arquitectos, where they develop public building projects related to culture, such as the Valle Inclán Theater in Madrid, the enhancement of the Villa Romana de la Olmeda in Palencia or the Archaeological Museum of Almería. It was in 2007 when he established his own architecture studio in Madrid, Foxium Arquitectura, developing multidisciplinary projects and architecture competitions throughout the national territory, such as the Cuatro Caminos Library in Madrid or the Regional Library of La Bisbal d'Empordá. . He recently won the competition to build the CIEI of Getafe, which includes a business accelerator, offices and School of Hospitality. He also develops architecture and interior design work in single-family homes and in multiple restaurants.