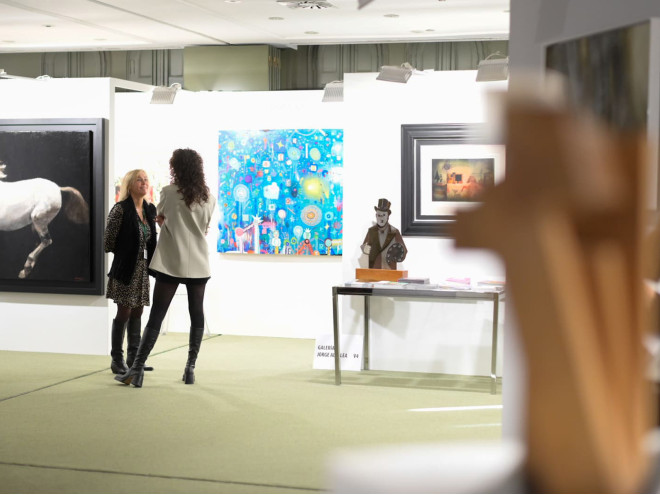 Posted By
20 of December 2022
0 Comment(s)
435 View(s)
The Círculo Ecuestre has successfully closed its third edition of By Invitation, its international cycle of modern and contemporary art, with a large number of people. For six days, the Barcelona club has managed to become the city's cultural meeting point and the ideal place to admire close to a thousand works by artists such as Miró, Picasso, Dalí, Barceló, Plensa or Tàpies, among others.
With the aim of promoting the cultural sector of the city, and in order to bring together a group of high quality and representative of the artistic world of the city of Barcelona, the exhibition has brought together 23 leading art galleries from Barcelona and the rest Spain.
This edition, By Invitation has wanted to pay tribute to the Barcelona painter Antoni Tàpies, anticipating the centenary of his birth, which will be celebrated in 2023, exhibiting a multitude of works by the artist.
To accommodate the thousand works, the Círculo Ecuestre ceded the entire space of its headquarters to the exhibition, for which not only the halls and terraces distributed over the four floors of the palace were set up, but also spaces for traffic, such as stairs or hallways.
Enrique Lacalle, curator of By Invitation and vice-president of the Círculo Ecuestre, has confirmed the success of the edition:
"Because the space of the Círculo Ecuestre does not fit more galleries, with a view to the next editions we are going to strive to find the maximum quality of the exhibited works, also winking at new collectors with products suitable for all budgets. We are very proud of the result of By Invitation because in just three years it has managed to become a benchmark for modern and contemporary art in Barcelona and Spain. The fourth edition will be held between December 13 and 17, 2023".

For his part, Antonio Delgado, president of the Círculo Ecuestre, added that this exhibition "reaffirms the club's commitment to the artistic and cultural sector, a specialty that has been very present in the history of the institution throughout its 165 years of life".
In addition to interesting conferences led by experts, the modern and contemporary art cycle has had the visit of prominent figures from the world of politics, culture and art during the six days that it has remained open. Among them, it is worth noting personalities such as Baroness Thyssen, the first deputy mayor of Barcelona City Council, Jaume Collboni; the Barcelona painter Jaume Plensa and the Count of Godó, President-Publisher of the Godó Group.